Faster, smarter AML transaction monitoring
Let's reduce your case work by 50%
4 times more true positive alerts than any legacy solution
40x+ behavioral insights for continuous, risk-based monitoring
Automated SAR management and compilation  
Use a transaction monitoring software that works for you
Case load -50%, capture rate +400%
Applying relevant detection techniques is crucial to effective AML transaction monitoring. Behavior analysis raises your perspective from fragmented slivers of data to a unified horizon, and lets you see patterns in context. Lucinity's transaction monitoring uses explainable data models with transparent AI algorithms that learn from your feedback and your customers' behavior.
It flattens your case work by up to 50%, and provides 4 times more true positive alerts than any legacy solution.
Lucinity's transaction monitoring was designed for efficiency
40x+ behavioral insights for continuous, risk-based monitoring
4x more true positives than your legacy system
Save 80% of your time spent on data analysis
Automate SAR management and filing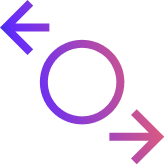 Transaction monitoring
Using augmented intelligence, we are revolutionizing how financial institutions approach, understand, and deal with the ever-evolving threat of money laundering.