The AML solution you deserve
You are the future of finance. You deserve to use the future of AML compliance.
User-friendly, AI-driven, productivity-focused AML
Your team wears many hats already, why add more than necessary
Productivity and precision matter. Dynamic fintech businesses need to deploy efficient, intuitive solutions to maximize the potential of their resources. Lucinity's user-friendly, AI-driven AML system does the heavy lifting while empowering compliance teams to be productive with tools built specifically for them.
Risk-based scoring and behavior detection further enhances customer data insights, giving AML the capability to be more than just a regulatory necessity and provide value to the business.
AML compliance meets productivity
Multidimensional AI designed for AML compliance
Elegant, intuitive UI built for productivity and efficiency
API-first, modern integration into your data pipeline
Unlimited scaling that matches your growth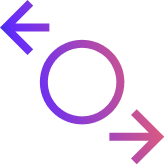 Transaction monitoring
Using augmented intelligence, we are revolutionizing how financial institutions approach, understand, and deal with the ever-evolving threat of money laundering.