Don't let AML to hold back your fintech potential
Get AML right from the start and eliminate the compliance bottlenecks from your future
Get AML compliance right from the start
Multidimensional AI built for risk-based AML compliance
API-first design for flexible integration
Elegant, intuitive UI built around the needs of AML professionals in the 21st century
Unlimited data intake that scales to your needs  
The AML system that grows with your company
Scaling a next-gen financial business needs scalable AML compliance software
Fintech businesses set out to challenge the status quo of how people do finance. They deserve to be supported by an AML compliance system that matches their level of innovation and sophistication. Lucinity's AML solution is built for maximizing the efficiency of your resources and matching the speed of your growth.
Processing compliance data is often the bottleneck that prevents fintechs to reach their potential. Lucinity's state-of-the-art, transparent AI sifts through the data to find suspicious behavior and empower your compliance team to do more, with less effort.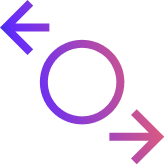 Transaction monitoring
Using augmented intelligence, we are revolutionizing how financial institutions approach, understand, and deal with the ever-evolving threat of money laundering.