Comprehensive risk-based monitoring and scoring
Move from static rule-based to flexible risk-based monitoring for faster, smarter AML
A truly risk-based monitoring software with behavior detection
Over 40x+ behavioral insights + endless risk-based coverage
Risk-based compliance solutions strengthen a financial institution's defense against money laundering, and reduce cost and complexity inherent in rule-based approaches. Lucinity moves AML risk scoring into a multidimensional data matrix, processed by continuously learning, transparent AI algorithms, and presented in an intuitive UI built for AML.
Empower your AML team with a true risk-based monitoring solution that learns from and with them.
Ready to give risk-based monitoring a try?
Risk-based monitoring based on 40x+ behavorial insights
4x more true positives born from elegant risk scoring models
Use your time better as you explore case data in an intuitive UI
Lucinity never sleeps and monitors risk while you do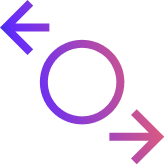 Transaction monitoring
Using augmented intelligence, we are revolutionizing how financial institutions approach, understand, and deal with the ever-evolving threat of money laundering.