How diligent is your Enhanced Due Diligence?
Don't let criminal activity to sneak through outdated checkboxes
Put the "enhanced" in enhanced due diligence
EDD compliance done right
Using customer behavior analysis creates a complete picture for risk and results in better AML case data in investigations. Lucinity's behavior detection automatically and continuously updates your customers' risk score, and provides intuitive tools to discover the reasoning behind the numbers and alerts.
Your current EDD compliance software may walk you through the data, but it doesn't have the context you need to make smarter decisions faster.
Ready to see how Lucinity enhances your EDD?
40x+ behavorial insights for continuous, risk-based monitoring
4x more true positives than your legacy system
Supercharge your EDD compliance data
Intelligent insight you can verify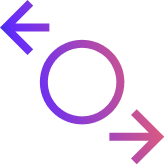 Transaction monitoring
Using augmented intelligence, we are revolutionizing how financial institutions approach, understand, and deal with the ever-evolving threat of money laundering.